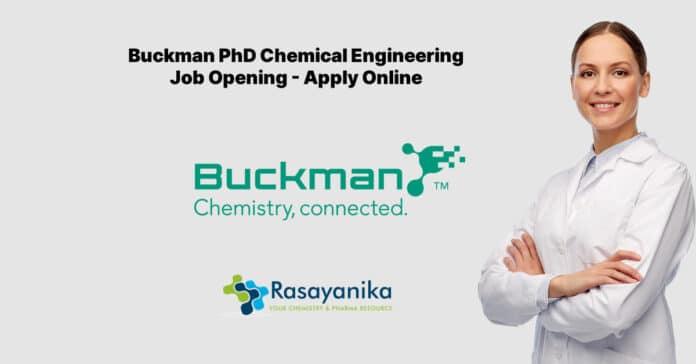 Buckman PhD Chemical Engineering Job – Apply Online
Buckman Chemical Process Modelling Engineer vacancy. Chemcial engg job opening 2022. Chemical engineering job vacancy 2022. Buckman is a privately held, global specialty chemical company with headquarters in Memphis, TN, USA, committed to safeguarding the environment, maintaining safety in the workplace, and promoting sustainable development.
Job Title: Chemical Process Modelling Engineer
Location: Digital Chennai, India Chetpet
Eligibility Criteria: 
BS degree in Chemical Engineering from a recognized university with 5+ years of experience in process modelling or a MS with 3+ years of relevant experience.
High competency and knowledge in chemical engineering principles and optimization methodologies including, reaction kinetics, unit operations design, chemical thermodynamics, heat and mass transfer and engineering statistics.
Significant experience in modelling and simulation using open source or commonly used modelling tools; 3+ years of experience in applications such as Matlab, Aspen, Octave, Python, OLI
Preferred Qualifications:
A Ph.D. in Chemical Engineering with experience in process modelling, including thesis work.
Experience modeling unit operations related water treatment and steam systems and running water and energy balances.
Basic exposure to data science.
Experience working with EPC companies to model to design and implement unit operations.
Purpose:
Buckman is seeking an experienced Chemical process modelling engineer to be part of developing the Modelling COE at our Chennai facility. Reporting to the Digital Innovation Manager, the Modelling engineer will be responsible for developing mathematical models of chemical processes for real-time parameter estimation and process optimization. The Modelling Engineer will also be responsible for developing physics-based models of assets commonly used in chemical processing in order to simulate various process operational scenariosYou will work closely with Buckman stakeholders to derive deep industry knowledge across paper, water, leather, and performance chemical industries. You will help develop the modeling center of excellence strategy for the company, including creation of the project portfolio, partnering with external providers, and augmenting capabilities with internal hires. A large part of the job is communicating and developing relationships with key stakeholders and subject matter experts to tee up proofs of concept projects. You will not have a large internal team to rely on, at least initially, so individual expertise, breadth of modelling and simulation competency, and ability to partner with external companies will be essential for success.
You will be working closely with a multi-disciplinary team of subject matter experts, R&D, sales, and Digital associates and marketers to develop and deploy Process modeling solutions. Buckman is the place for you if you like working for an entrepreneurial company with a sustainability mission and digital ambitions at the core of its strategy.
Key Responsibilities
Development of steady state models for simulation of water and energy streams or chemical processes.
Design, development, and validation of methods for steady state prediction of process variables.
Creation of digital twins.
Working in close collaboration with the software team to implement advanced simulation capabilities within the Buckman digital platform.
Collaboration with a diverse set of individuals including modelling scientists, data scientists, software and hardware engineers, sales engineers, chemical plant operators, and chemical industry executives.
Editors Note: Buckman PhD Chemical Engineering Subscribe to Rasayanika for the latest chemistry and Pharma job openings, follow us on Facebook and Telegram and subscribe to our youtube channel for the latest updates on chemistry and Pharma jobs and much more.