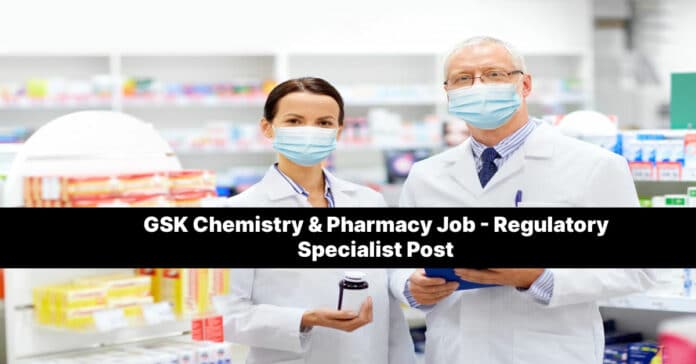 GSK Chemistry & Pharmacy Job – Regulatory Specialist Post
GSK Hiring chemistry and pharmacy job opening 2022. Chemistry job opening 2022. Pharmacy job opening 2022, Regulatory Specialist job opening 2022. BSc Chemistry and B Pharmacy job opening 2022, GSK job opening 2022; check out all the details on the same below:
Job Title: Regulatory Specialist CTA/IND Development Delivery
Location: Bengaluru, India
Id: 343220
Eligbility Criteria:
List any academic or practical education that must be obtained to be qualified to perform this role.
Minimum Level of Education*
Bachelor's degree in biological or healthcare science qualification or experience within Regulatory Affairs in the Drug development environment
Area of Specialisation*
Chemistry, pharmacy or other related science or regulatory affairs
Why is this Level of Education Required?
Working in complex environment within a scientific organization
Job-Related Experience
Describe what experience this position will require the job holder to have obtained in past roles within or outside of GSK that would demonstrate a level of proficiency in the stated role.
Minimum Level of Job-Related Experience required
2-3 years of relevant experience
Why is this Level of Experience Required?
Role requires a general understanding of CTA/IND submission requirements for multiple countries/ submission types and an ability to work in a matrix environment.
Other Job-Related Skills/Background
List any licenses, certificates, registrations, or any relevant job skill or abilities not covered in Educational Background or Job-Related Experience sections above that are required for the job.
Knowledge of practical implementation of the European Clinical Trial Directive.
Knowledge and experience of filing artefacts per the DIA Trial Master File Reference Model.
Knowledge of clinical trial application process and review for countries outside Europe would be an advantage.
Understanding of the use and importance of internal tracking to ensure compliance with reporting and other requirements for each study protocol.
Pays attention to detail; is aware of the importance of accuracy and the need for compliance with internal and external policy and regulations.
Sound interpersonal and communication skills to ensure sound level of engagement of others
An ability to manage multiple tasks in parallel and organize time and actions within submission or project timeframes
Able to work effectively in, and promote, sound team working across organizational boundaries
Works co-operatively with others, individually or in teams, in order to achieve project or product goals.
Takes time to reflect on own performance and learn from experience to improve overall performance and input to process improvements to benefit other projects.
Ability to work in multiple IT systems (filing, tracking & repositories)
Key Responsibilities (10 bullet points maximum)
Describe the key deliverables to be achieved by the post holder and the ongoing responsibilities of the role
Coordination of CTA/IND submissions, to ensure timely delivery and ensuring the content is appropriate to each individual regulatory agency while maintaining compliance with GSK policy and procedures
Accountable to the functional CTA/IND Team Lead for overall work plans and to Global
Regulatory Leads or Regional Representatives for definition of requirements within an agreed project.
Accountability for agreed tasks and projects.
Ensure independent communication, with a range of internal GSK staff, in support achievement of the assigned goals.
Ensure compliance with GSK CTA/IND process through timely action and completion of records in internal GSK systems
Ensure quality of own work to agreed timeframes, including compliance with GSK systems and record keeping.
Editors Note: GSK Chemistry & Pharmacy Subscribe to Rasayanika for the latest chemistry and Pharma job openings, follow us on Facebook and Telegram and subscribe to our youtube channel for the latest updates on chemistry and Pharma jobs and much more.