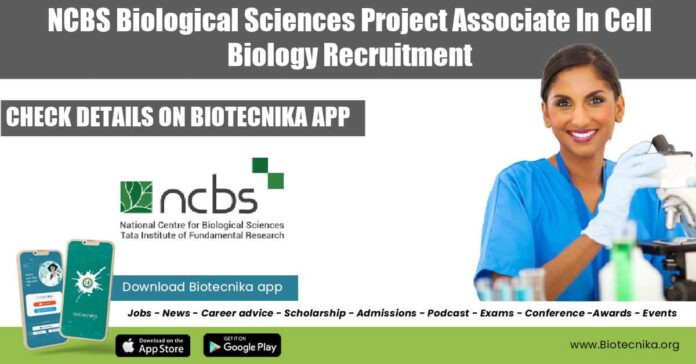 NCBS Biological Sciences Project Associate In Cell Biology Recruitment
NCBS Biological Sciences Project Associate In Cell Biology Recruitment. MSc & BSc Biological Sciences Project Associate – I in Cell Biology job opening. Interested and eligible applicants can check out all of the details on the same below –
This job expires in
03Days
12Hours
31Minutes
07Seconds
Advt No.14/2022 : Appointment of a Project Associate – I in Cell Biology, in the laboratory of Dr Shruthi Vishwanath
Name of the Post – Project Associate – I in Cell Biology
Number of positions – 1
Age limit – 40
Project description –
Experimental validation of integrative structures of cell-cell assemblies
We are hiring a trainee to perform basic cell biology experiments for validating computationally predicted models of cell-cell assemblies. The project involves generating stable cell lines with WT and mutant proteins and functionally validating the cell-cell junction using co-immunoprecipitation and confocal imaging. Persons with previous experience in the above kinds of experiments are preferred.
How to apply –
Interested applicants are requested to apply online with their CV in the application portal.
The last date for applying is 30th June 2022. Candidates will be contacted and interviewed on a rolling basis till the position is filled.
Please note that candidates who have not been selected for an interview will not be contacted; we are unable to reply to all enquiries from candidates.
Steps to Apply –
Step 1 – Interested candidates should register ONLINE through the link on our website using a valid email ID.
Step 2 – You will receive a user ID and password on your registered email ID.
Step 3 -Using your ID and password, you can fill in the application by clicking on "Submit Application"
Step 4 – Once you fill in the application, you can SAVE or PREVIEW the application. Please Note: Any corrections should be made before you SAVE the application.
Step 5 – After you SAVE, you can submit the application by clicking "SUBMIT".
Step 6 – All essential certificate is proof of your qualification, date of birth, experience, caste, etc. Should be uploaded while submitting the ONLINE application.
Note: Please do NOT send hard copies of applications/documents.
Note: Kindly fill the online application step by step from your Laptop/Desktop with latest browser. Please do not use MOBILE phones for submitting online applications.
Salary offered – 25,000 (without CSIR/GATE/equivalent qualification), 31000 + 24% HRA (with CSIR/GATE/equivalent qualification)
Minimum % of marks – 75%
Essential Qualification & Experience required –
Bachelor or Master's in any branch of Biological Science.
One (1) year of experience in cell culture/molecular biology lab.
Skills required –
Cell culture and basic molecular biology techniques: generating stable in vitro cell lines, transfection, Western blots, co-immunoprecipitation.
Confocal microscopy, immuno-staining.
Excellent communication (written and oral) skills.
Good organization skills.
View Notification
Editor's Note: NCBS Biological Sciences Project Associate In Cell Biology Recruitment. Please make sure that you are subscribed to the Biotecnika Times Newsletter and our YouTube channel to be notified of all of the latest in the industry. Follow us on all of our social media like Twitter, Telegram, Facebook and Instagram.
Upload your CV to Biotecnika