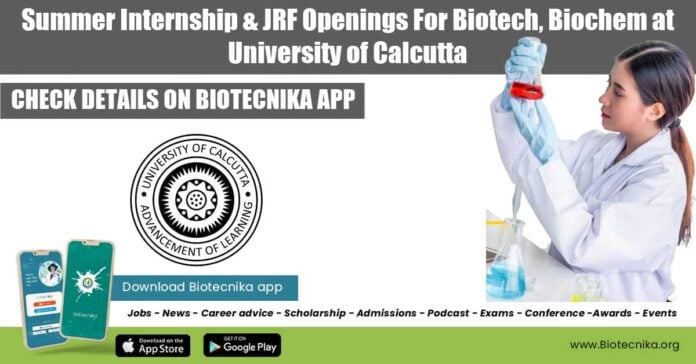 Summer Internship For Biotech, Biochem – JRF Job at Calcutta University
Summer Internship For Biotech, Biochem – JRF Job at Calcutta University. Calcutta University job opening at Calcutta University. Interested and eligible applicants can check out all of the details on the same below
This job expires in
05Days
16Hours
28Minutes
41Seconds
University of Calcutta
Department of Polymer Science and Technology
Advertisement for one JRF position and one summer internship in SERB sponsored project
Applications are invited for the position of one JRF position and one summer internship in SERB sponsored project (Sanction No: EEQ/2020/000496, Dt- 19/03/2021) entitled "Nonisocyanate polyurethane……….for Tissue Regeneration", under the Principal Investigator (PI) Dr. Kishor Sarkar, Department of Polymer Science and Technology, University of Calcutta.
Qualification –
M.Sc. in Biochemistry or M.Tech. in Polymer Science and Technology/ Biotechnology/ Nanobiotechnology/ Biomedical Engineering with a valid NET or GATE score.
For non-NET/GATE, the applicant should have at least one research article in an international reputed journal. Knowledge in cell culture, western blot, PCR etc. will get preference.
Duration of projects –
Junior Research Fellow (JRF) – 1 year 10 months
Summer Internship – 2 months
Emoluments –
JRF – Rs. 31,000/- + 24% HRA= 38,440/- (1st Year) (per month), Rs. 35,000/- + 24% HRA= 43,400/- (2nd Year) (per month)
Project Internship – 5,000/- (Fixed) (per month)
The selected candidate will be initially taken as JRF and will be paid as mentioned above for initial two years. The fellowship will be provided initially for one year. Continuation of the fellowship is subjected to satisfactory performance and review at the end of each year. After completion of two years, the fellowship will be upgraded to SRF and will be paid higher fellowship as mentioned above for one year.
How to Apply –
Interested candidates are requested to apply on plain paper along with an updated CV with
all necessary self-attested certificates to PI at [email protected] on or before 13/07/2022. The shortlisted candidates will be informed through email for an interview. For more information about PI and his work, please visit – www.kishorgttl.com.
Interview date – 15/07/2022
Mode of Interview – Online
Interview Platform – Google meet (Link and time will be shared with selected candidates)
Secretary, UCSTA
University of Calcutta
92, A.P.C. Road
Kolkata- 700009
Click here for the notification
Editor's Note: Summer Internship For Biotech, Biochem – JRF Job at Calcutta University. Please make sure that you are subscribed to the Biotecnika Times Newsletter and our YouTube channel to be notified of all of the latest in the industry. Follow us on all of our social media like Twitter, Telegram, Facebook and Instagram.
Upload your CV to Biotecnika