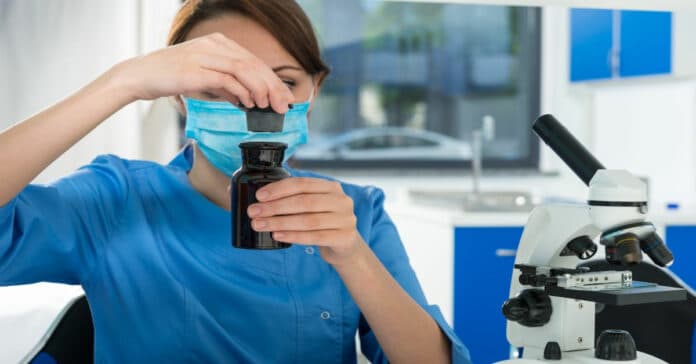 text-align: center;">THSTI M Pharma & D Pharma Job Vacancy – Salary Rs 85,000/-
THSTI hiring pharma candidates. D Pharma and M Pharma job opening 2022. Pharmacy job opening 2022, Program manager job opening 2-022., Candidates with master's and diploma degree in pharma may apply for the job opening at THSTI. Intrested and eligible candidates may check out all the details on the same below:
Job Title & Project Title:  Program Manager (Public Health) "NBM Program"
Number of posts 01
Emoluments Rs. 85,000/- Consolidated
Age 45 years
Elibgility Criteria: Master's degree/ diploma in pharmacy
Essential work experience:
5 or more years of experience in clinical project management and/or clinical trial/
study monitoring
•Experience of clinical trial or public health project management in a recognized
organization/institute (academic clinical trials unit, CRO, pharmaceutical,
biotechnology, or device company)
Job Profile: 
Responsible for the management and cross-functional coordination of the
program and work closely with Project Management Unit (PMU) of National
Biopharma Mission (NBM) to develop and maintain the overall project plan and
timelines, communicate project expectations to the respective resource /
consultant and manage the overall project budget.
• To oversee the management of a portfolio of trials / studies including project
management, quality monitoring and/or safety monitoring and guiding the
study teams to achieve successful completion of all assigned activities in the
program.
• This position may also be required to participate, manage and oversee
capacity building at sites for clinical trials as planned by MIU-NBM. This would
involve being responsible for completion of all the objectives set out for the sites
to ensure they are ready and capable of participating in clinical trials.
• Support the team in the implementation of systems for resource planning,
study / trial administration, implementation, oversight monitoring, quality
assurance and documentation and record keeping Particulars Details
• Establishment of procedures to ensure adherence to trial protocols and
administrative requirements
• Develop project specific and protocol specific training or as requested
• Monitoring the trial progress to ensure compliance with and adherence to the
project plan and to identify, evaluate and rectify problems
• Understand the requirements of the various controlling bodies, agencies and
frameworks, guiding the project in conforming to those requirements and
coordinating any necessary audit processes
• Liaison with Steering Committee and DSMB with a particular view on
compliance with Research Governance, Good Clinical Practice, Data Protection
and Ethical Requirements
• Work with the Investigators to ensure that the trial is meeting its targets, is
producing meaningful output and to predict and plan any changes that warrant
requests to changes in protocol, funding, or timelines
• Assists Clinical management with the development, negotiation, and
execution of the site contract, budget and payment plan
• Management of the trial budget(s) and maintenance of the accounts
• Development, approval, and distribution of study-related documents
including Case Report Forms (CRF's), study protocols, study manuals, and other
study tools to investigational sites and review committees
• Supervise the study start up activities, trial monitoring and reporting
• Manage distribution, collection and tracking of regulatory documentation to
ensure compliance with regulatory and project requirements and audit
readiness
• Oversight for planning, preparing, and distributing materials for investigator
and coordinator meetings, and for study related training
• Work with data management and other departments to track progress,
milestones and the challenges
• Works Closely with: Project Team at CDSA, NBM and the site, Sponsors, clinical
collaborators, Expert groups / Committee, Regulatory Affairs, Medical Affairs,
Data Management, Biostatistics, Laboratory team, key Institute staff on finance,
administration, contracts and personnel matters.
• Continually review and respond to changes required to shape the infrastructure, functionality and standards of the program management
GENERAL TERMS & CONDITIONS: –
a) These are short-term positions and extension will be granted subject to satisfactory
performance of the incumbents and tenure of the project for which they are selected.
Those appointed to these positions will not have any claim for regularization of their
employment.
b) All educational, professional and technical qualification should be from a recognized
Board/University.
c) The experience requirement specified above shall be the experience acquired after
obtaining the minimum educational qualifications specified for the post.
d) Closing date of online application will be the CRUCIAL DATE for determining eligibility
with regard to age, essential qualification etc.
e) The age limit, qualification, experience and other requirements may be relaxed at the
discretion of the competent authority, in case of candidates who are otherwise suitable.
In case candidates are not found suitable for the posts notified, they can be offered lower
post / lower emoluments on the recommendation of the Selection Committee.
f) Age and other relaxations for direct recruits and departmental candidates:
1. By five years for candidates belonging to SC/ST communities.
2. By three years for candidates belonging to OBC communities.
3. For Persons with Benchmark Disabilities (PWBD) falling under the following categories: (i) UR – ten years, ii) OBC – 13 years (iii) SC/ST – 15
4. Age is relaxable for Central Government servants up to five years in accordance with
the instructions or orders issued by the Central Government, from time-to-time.
5. There is no upper age limit for the Institute employees who are treated as departmental
candidates. 6. For Ex-servicemen up to the extent of service rendered in defense forces
(Army, Navy & Air force) plus 3 years provided they have put in a minimum of 6 months
attested service.
g) All results will be published on our website and all future communications will be only
through email.
h) In case a large number of applications are received, screening will be done to limit the
number of candidates to those possessing higher/relevant qualification and experience.
i) With regard to any provisions not covered in this notification, the bye laws of THSTI /
Govt. of India rules / guidelines shall prevail.
j) Canvassing in any form will be a disqualification.
HOW TO APPLY:
1. Documents to be kept handy before filling up the online application: all the
documents except (i) should be in pdf format: –
i) A soft copy of your passport size photo and signature. (jpeg/jpg/png format)
ii) A comprehensive CV containing details of qualification, positions held, professional
experience / distinctions etc.
iii) Matriculation certificate (equivalent to 10th Standard) / Mark sheet)
iv) Intermediate certificate (equivalent to 12th Standard) / Mark sheet)
v) Graduation/Diploma degree certificate / Mark sheet
vi) Post-Graduation degree certificate & Mark sheet (if applicable)
vii) PhD/MD Degree (if applicable)
viii) Relevant experience certificates (if applicable)
ix) Caste / Disability certificate in the format prescribed by the Govt. of India, if
applicable
2. Procedure for filling up online application:
i) The eligible and interested candidates may apply online at the Institute's website
www.thsti.res.in/career. Applications through any other mode will not be accepted.
ii) The following will be the step wise procedureA) Step 1 : Details of the applicant
B) Step 2 : Uploading of documents
C) Step 3 : Payment of application fee
➢ The payment can be made by using Debit Card / Credit Card / Internet
Banking / UPI.
➢ Once payment is made, no correction / modification is possible
➢ Candidates are requested to keep a copy of the provisional receipt forfuture
reference.
➢ Fee once paid shall not be refunded under any circumstances
Call for application will remain open till suitable candidates are found.
➢ Deadline for receipt of application is 28th October 2022.
Editors Note: THSTI M Pharma job, THSTI M Pharma, THSTI M Pharma Subscribe to Rasayanika for the latest chemistry and Pharma job openings, follow us on Facebook and Telegram and subscribe to our youtube channel for the latest updates on chemistry and Pharma jobs and much more.